FALL IN LOVE WITH BODY BRUSHING
At VOYA we believe in investing in our skin, and that is why we love body brushing, also known as dry brushing. This ancient practice has reached celebrity status over the last few years; Victoria's Secret model Josephine Skriver puts it on her list as a must to be runway ready while actress Gwyneth Paltrow has said that she dry brushes every night before showering. 
This skincare secret is popular due to its results-driven benefits and detoxifying properties. A dry brush is done using a natural-bristle brush to softly but firmly brush the skin in strokes toward the heart. This increases circulation, reduces the appearance of cellulite, prevents ingrown hairs, supports the lymphatic system and boosts energy levels. To read more about the benefits of body brushing, click here, for VOYA's previous blog on how to add this technique to your daily routine. 
Getting Started
Now you know that dry brushing is a brilliant technique to add to your beauty routine but before you dive into this popular wellness practice, there are a few brushing basics you need to know. Many of us probably already own a body brush but aren't too sure how to use them or what they are good for. VOYA has been incorporating this technique in our luxurious spa treatments and we wish to share our top tips with our customers to help you get the most out of your brush.
How to Body Brush
Dry brushing is easy but it needs to be done regularly, luckily 3/5 minutes is all you need. If you are a beginner, start by doing it 3 times per week, working up to doing it daily. For visible results, stick with it for 2 weeks. You can body brush at any time of the day, but ideally before bathing. By brushing first thing in the morning, it will give you an energy boost for the day ahead, but if you do it in the evening, you can make it a more relaxing treatment using gentler, methodical strokes.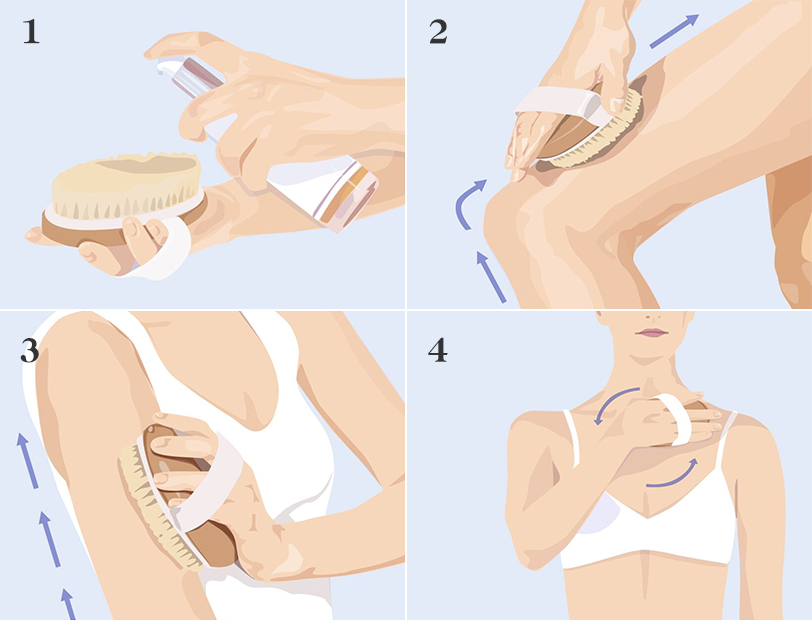 Everyone has a different way of using body brushes, the key is to listen to your body, and enjoy this time set aside for you and your skin. However there are a few common mistakes that people don't know about when it comes to body brushing, these include:
• Start with using the brush on dry skin.
• Always brush in an upwards direction.
• Avoid putting too much pressure on the skin it might irritate later.
• Do not use a body brush on irritated or injured skin.
• Don't forget the soles of your feet, which have lots of nerve endings.
• If using it wet make sure you use a mild shower gel and move the brush in a circular motion.
• Do not dry brush before bed. Dry brushing invigorates and "wakes up" the skin, therefore it is not an activity to do right as you are winding down. 
• Once you are done with brushing, do not forget to wash the brush and leave it to dry naturally. 
• Choose the right dry brush for your skin. VOYA's natural vegan exfoliating Body Brush is made with Cactus Bristles and comes with an Organic Cotton Pouch. This brush works to remove dry skin cells and stimulate the skin to leave it looking renewed, radiant, and velvety soft.
Summer S
kin Ready
As we come into the summertime, body brushing is a simple step towards radiant and glowing skin. Brushing scrapes away all the dead skin cells resting on your body surface and reveals youthful skin. Once the dead skin cells have been eliminated, the skin tends to look more radiant. The next step is to exfoliate your skin. No matter how much lotion you use, you're never going to have glowing skin if you don't exfoliate so grab a body scrub and hit the shower!
VOYA's award-winning Effervescence Nourishing Sugar Scrub is a dual-action scrub that exfoliates with sugar particles, whilst simultaneously nourishing the skin with a natural blend of seaweed oils, almond oil and sunflower seed oil. Gently rub this luxurious seaweed and sugar scrub in circular movements on your entire body from the shoulders down. VOYA's organic formulation works to transform dull-looking skin with a floral fragrant blend of lavender and rosemary to leave the mind serene and balanced. While you scrub and massage your body with the brush, it leaves a relaxing, reviving, and refreshing sensation in your body while leaving your skin feeling invigorated at the same time. This straight away uplifts your mood and makes you feel less stressed.
Effervescence has been recommended as a beauty essential by the editors from 'Get the Gloss':
"I wouldn't normally associate seaweed with self-care, but this nourishing seaweed and sugar scrub has won a place in my weekly routine. This floral gritty exfoliator, scented with lavender and rosemary, uses seaweed, almond, and sunflower seed oil to switch my dull, dry skin from drab to fab. I adore how silky smooth and soft my skin feels afterwards and I never have to use body lotion or oil when I've used this, I'll definitely be repurchasing before I get my legs out in the summer." - Jemma Thompson, GTG Graphic Design and Social Media Manager at Get The Gloss 
The Aftercare
After dry brushing and exfoliating, consider adding a natural oil to rehydrate your skin. Its is important to use healthy, high-quality ingredients after dry brushing sessions because the skin will absorb product more readily. Harper's Bazaar has picked VOYA's Angelicus Serratus as one of the best luxury organic body oils. Angelicus Serratus is the world's first seaweed-based luxury body oil formulated with notes of lime and mandarin. moisturising and nourishing body oil is enhanced with anti-oxidant rosehip that slows the signs of ageing and evening primrose, which helps improve skin elasticity. Always moisturise with damp skin, as smoothing on an oil or cream will seal in water from your shower. And there you have it, your skin is now summer ready and radiant 😎
To help you begin your body brushing journey, VOYA is offering an exclusive Body Smoothing Due. Bundle up and save 20% when you purchase VOYA's Exfoliating Body Brush and Angelicus Serratus Body Oil together. Take a 2-step approach to tackle the appearance of cellulite through exfoliating, and skin stimulating movements using VOYA's vegan Exfoliating Body Brush and improve skin appearance and suppleness with seaweed-based Angelicus Serratus Body Oil.